The Difference
 The Difference
Look how our accident management services compare against your insurance company…
| | Non-Fault Accidents | Insurance Company |
| --- | --- | --- |
| Excess to pay? |  No |  Yes |
| No claims discount affected? |  No |  Yes |
| Like-for-like replacement bike? |  Yes |  No |
| Deposit required? |  No |  Yes |
| Free choice of repairer? | Yes | No |
| Comprehensive and third party policy holders treated equally? |  Yes |  No |
| Replacement bike on total loss claims? |  Yes |  No |
| Active monitoring and progress chasing? |  Yes |  No |
Choosing your Repairer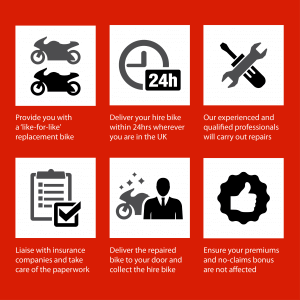 Remember it is your motorbike and you can choose who repairs it. Many insurers have networks of their ''approved'' repairers, they may try and convince you to have your bike repaired where they choose. Remember this is for their convenience not yours.
Don't be unduly influenced by insurers suggestions of delays and extra costs if you don't do what they say. You are entitled to consider the benefits of dealing with the repairer of your choice. You are not obliged to have your bike repaired at an insurance company nominated repairer.
After an Accident
Ensure your bike is roadworthy before you drive it again. For example, check that the lights still work, there is no dangerous bodywork that may injure other road users and there are no leaking fluids.
Save
Save
Save
Save
Save